Mandurah Holiday Accommodation
Posted on
Holiday accommodation considerations can sometimes be quite daunting. In Mandurah, many holiday makers from Perth and beyond want to be as close as possible to Mandurah's spectacular "water views". This is understandable considering that Mandurah, and its surrounds, boast one of the greatest accessible waterways in Australia. With its rivers, inlets, estuary and award winning marinas, there is so much to see and to enjoy. Sadly, fixed accommodation only provides a very one dimensional view from where you are staying.
The Solution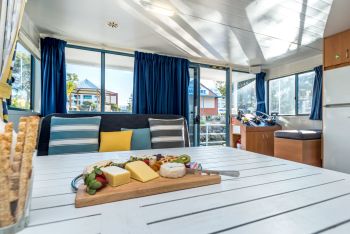 The good news is, in this case, you can have your cake and eat it. Imagine your Mandurah holiday accommodation on the water with 360 degree views. Imagine being able to move throughout all of Mandurah's vast waterways. Imagine waking up at a different destination each morning whether on Mandurah's award winning Dolphin Marina, Port Bouvard Marina and Fish Sanctuary, on the Estuary or up the spectacular Murray River, you can do it all by hiring a Mandurah Houseboat for your next Mandurah Holiday.
Mandurah Houseboat Holidays is a truly spectacular way to spend time with your Family, Friends, or even a Party Group as you enjoy all that Mandurah has to offer (from as little as $40/pppd). The beauty is you don't even need a Skippers Ticket! The wonderful staff and crew at Mandurah Houseboat Holidays will teach you how to comfortably operate your hired Houseboat.
Things To Do!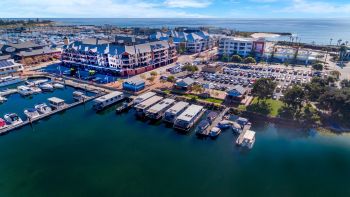 Once you have planned where you are going and where you wish to stay each night, it's ship ahoy and off you go. Mandurah's Dolphin Marina offers wonderful Restaurants, Cafes and Bars while the Estuary and its islands offer tranquil stays with fishing, crabbing and wildlife; including Mandurah's beautiful Dolphins. The River is also spectacular with its meandering waterways boasting wonderful scenery with Taverns and Restaurants up and down the river for brekky, lunch or tea. Then there's Port Bouvard in Dawesville that boasts a protected Fish Sanctuary, here there are wonderful Restaurants and Taverns if you care to stretch those legs, or you might wish to watch time go by as you relax on your fully loaded Houseboat. There are endless things to do and a full list of activities await you on your chosen vessel.
For more information why not contact us now.